General info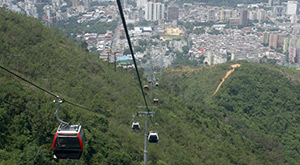 Capital of Venezuela, extends from the west to east in a valley in the north of the country about 800 meter over the sea level and near the coast. It was set up in 1567 by Diego de Lozada under the name Santiago de León de of Caracas.
Today Caracas is a modern city and with approximately 2 million inhabitants the largest Venezuela's. Temperatures between 23 and 29 ° Celsius make the hectic metropolitan life bearable.
In the north the city borders on the "Cerro (hill) el Ávila", with his height of 2600 meters the lung of Caracas. Because of that this area was put under nature conservation. A ropeway leads you to the impressing top at 2100 meters, where you can visit the famous Humbolth hotel.
The capital of Venezuela has different places of historical and cultural interest. For example "La Casa Natal del Liberator" (Birthplace of the liberator Simón Bolívar), "La Cuadra de Bolívar", "El Panteón Nacional", "El Capitolio", "El Concejo Municipal", "La Casa Amarilla" (the yellow house), "la El Arco de Federación", "El Monumento a los la Próceres de Independencia", "La Catedral de Caracas", "La Basílica Santa Teresa", "La Basílica Menor Santa Capilla", "La Iglesia San Francisco", "El Museo de Bellas Artes" (Museum of arts), "La Galería de Arte Nacional" (National art gallery), "El Museo de Arte Contemporáneo de Sofia Imberg" (Museum of the contemporary art of Caracas of Sofia Imberg) and "El Museo de los Niños" (Museum of children).
| | |
| --- | --- |
| Country | Venezuela |
| Languajes | Spanish (Latin) |
| Currency | Bolívar Fuerte (VEF/BsF) |
| Required Documentation | Passport |