General info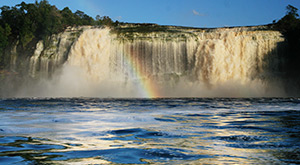 The national park Canaima which was declared as world heritage for natural value in 1994 by the Unesco lies in the southeast of the state Bolívar. The national park Gran Sabana is a part of Canaima.
In this detailed region with wonderful landscapes forests and savannas combine themselves with the impressing Tepuyes, also called "Cut Hills", 2800 meters high, bizarrely shaped plateau mountains. These are built up of at least 1800 millions years old layers . The unique Ecosystem of the Tepuyes offers a great number of endemic plant species. The Angel Falls, with 1005 meters highest waterfall of the world, originates from one of these mountains, the Auyan Tepuy.
For you we arranged different packages in the field "tours", depending on how much time you want spend and/or what you would like to see.
| | |
| --- | --- |
| Country | Venezuela |
| Languajes | Spanish (Latin) |
| Currency | Bolívar Fuerte (VEF/BsF) |
| Required Documentation | Passport |